A New Car
This is my review of the 2016 VW Passat SE TSI, which my wife and I picked up last month.  When we turned the key, it had 7 miles reading on the odometer from our dealer, Hewlett Volkswagen in Georgetown Texas.  
We took advantage of VW's labor day sales promotion for the Passat which allowed us to move into the Passat from a 2013 VW CC Sport, which we traded-in.
This review is being written a little over a month after delivery, and the odometer now reads over 6,250 miles.  I have labeled our recent trip "Pumpkin Run 2016" due to the time and distance traveled in such a short span.  Over the course of 5,500 miles on a 2 week cross-country trip, we drove through 11 States, 2 snowstorms, an ice storm, a dust storm, a rain storm, wind storm, and a lightening storm.   We also drove on roads of various types and in various stages of repair.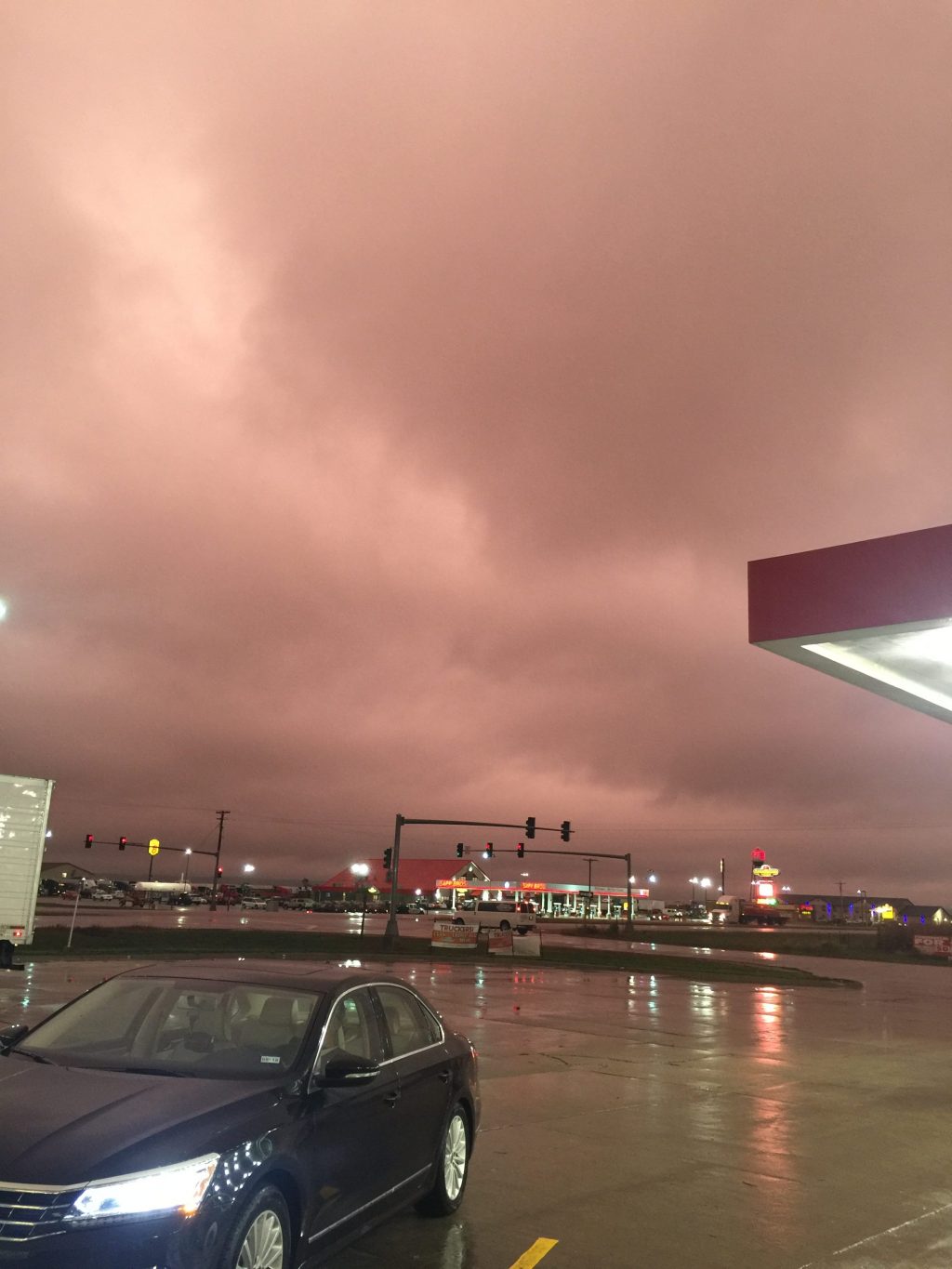 The Good
One of the reasons why I was not averse to purchasing a VW Passat was the advertised fuel economy of 38 miles per gallon.  You've perhaps seen the commercials about a couple of guys traveling and learning spanish in-between refueling.   While perhaps an exaggeration, I can honestly report that the range per tank was well over 700 miles.   Given that most of the miles we covered were on the Interstate without in-town stopping and starting, I can also report that our actual fuel economy was closer to 42mpg near the end of our trip.  
One of my wife's requirements for choosing a car is the availability of leather heated seats.  The heated seats worked consistently and were actually welcome when we drove through freezing weather, and on cold early mornings starting from a hotel.
Parking the Passat in the garage, the first thing I noticed is that the car was actually longer than my 2013 CC, which I thought was bigger to the eye.   The overall size of the Passat is deceiving.  The back seat leg room is akin to an Audi A6, which we previously owned, and larger than the Buick La Cross which is owned by my parents.  
The trunk storage is also deceiving for the Passat.  It has a pass-through for even longer items in the middle of the back seat (golf clubs), and the back seats themselves fold down for an even larger expanse if needed.   During this trip, I had my soft-bag in the trunk and my wife's hard luggage, a desktop computer that I was giving to family member at our destination, a tent, and a bathroom sink.    Okay, not the sink itself – but everything that surrounds the typical bathroom sink.  While at our destination with family in Oregon, we also installed and used a child seat in the back   The child seat connected easily and firmly in place, and likewise was also easy to remove.

Finally, the delivered model of Passat SE came with the high technology package.  While the CC has headlights that track and turn with the wheel at low speed using xenon lights, the Passat uses super bright LED headlights as well as daytime LED running lights.  The Passat LED package, however, does not track driver turning actions.  On more than a few instances, other drivers prompted me to dim my headlights in dark stretches of road in Oregon and Missouri.   I can only imagine the surprise in the cabin of their car when I flashed my hi-beams, showing them that I was using low beams.  In addition to the headlights, the rear license plate is also illuminated by bright LED lights, as are the LED brake lights..   We didn't really need to purchase the GPS Navigation package as an option for the car,  as VW allows use of Android or Apple phone integration.  We use Apple iPhones, and the CarPlay integration just worked.  Most of the time.  A few times I had to stop and let the car sit for five minutes before restarting, as synchronization didn't occur.  
There are multiple USB slots in the car, and the vehicle computer loads a firmware program that allows Siri integration via CarPlay.  There are some downsides to this arrangement when you're in the middle of Wyoming and there isn't any cell service (hence no Siri) and you can't use Siri to find the nearest fuel stop or restaurant.  Luckily, I have a Garman GPS unit that doesn't require access to cellular service.   If you regularly travel in areas without cellular service, purchasing the integrated GPS navigation may be to your benefit.   My standalone GPS unit worked in a pinch when we were in the weeds without service, but most of the time the CarPlay integration was sufficient.   This isn't a knock on VW – but drivers should be aware that if you only have CarPlay, you may want to have access to a separate GPS unit if you're not in an urban setting with cell service.   We used the standalone GPS unit on the road to find nearby bathrooms, restaurants, lodging, and fuel.   The standalone GPS unit from Garman is much more affordable than adding the same functionality to your vehicle purchase price.   This is true of any car – not just VW.
The Bad
Not everything was welcome or pleasing with the VW Passat.   One of the reasons why the Passat gets great fuel economy for such a large car is reduced weight and higher engine efficiency.  These are the only ways that one can increase fuel economy, other than using a different engine technology altogether.  The redesigned VW 1.8T engine is definitely more efficient and quiet.  It is paired with a smooth shifting overdrive transmission that is virtually inaudible at road speeds.   With this greater efficiency of the powertrain comes a sense of not enough power in some circumstances, which is where the turbo kicks it up a notch.   I can report that the Passat will not compete with a GTI.   The Passat, however,  has plenty of power for long distance driving, because the main selling point for buying a Passat is outstanding fuel economy.  It's a sedan, not a sports car.   As a sedan, it's engine and drivetrain are excellent choices – but your individual preference may vary.  

The road noise inside the cabin while driving at speed is very low, but with cold weather you can sometimes feel a draft where weight savings were achieved with lighter materials used and gaps exist.  This is most apparent in the door panels and trunk   The glove box and the driver's side box both use cheap plastic for the locking and handle mechanism.  Both get stuck and feel as if they can easily break.   One must be mindful of these weight savers – and treat them gingerly when opening or closing them.  One of the first comments from my wife regarding the new Passat was regarding the light sounding doors when they are closed.  She was used to the CC, and our previous Audi A6.   The A6 sounded like a tank when closing the door.   The Passat sounds like a tin can.  The center arm rest has a neat feature with a telescoping extension to save weight, and it's very useful when long distance driving, allowing the driver to rest the forearm while keeping hands on the wheel.
One other thing to note for the Passat is the choice by VW designers to include faux wood finish on the trim panels.    It might not matter to you, and while this might be acceptable in a luxury vehicle built by Audi, the use of such materials in the VW comes off as cheap and gives the interior an Old Man vibe that is hard not to ignore.   Granted, the Passat is not a GTI – but this is one area where the Passat could have used a little more hip attitude.   Some people might disagree, but if I wanted to drive a Buick – I would have bought a Buick.  
The Ugly
Finally, VW made some insane choices when it comes to automated car management.   These are sold as conveniences and driver assistance.   To be considered a convenience or assistance, however, the function must not interfere with driving or the driver must be given the option to disable the convenience.   Are you reading this VW?
What used to be called cruise control has been relabeled as adaptive cruise control by VW.   I call it cruise management.  The onboard computer has been programmed to use adaptive braking based on feedback from distance sensors at the front of the car, with the driver selecting a preferred distance.   While the driver can select different distances, there is no way to turn off the distance sensor or management interlock with the cruise control.  The lack of an ability to disable this feature is insane.
While driving through a snowstorm in Nebraska, the front distance sensor became foul (unavailable) due to moisture/cold/ice.   This while traveling 80mph on an interstate highway in traffic.   This could have been dangerous.  A driver without mechanical background may have thought the car was broken and stopped at a dealer..   Granted, you should not use speed cruise control while driving on snow – but it was only snowing.  The ground was warm enough that it was water on the ground.   Such as it is, I could not use cruise management for a hundred miles until suddenly, without warning, the sensor once again became available when the snow became rain and the sensor once again came online.  That is until two hours later still driving in rain, the sensors became foul again.  I think VW has a sensor issue that needs to be addressed.  Cruise was unavailable and I returned to manual speed control.   VW calls this technology "front assist" as it will keep your car a safe distance behind the vehicle in front of you and will give a visible and audible alert and apply hard brakes for an inattentive driver.  Well, as long as the sensor is available and active.  Given my experience, VW might have another liability issue.
In fact, I think the distance assistance became annoying.   Very annoying.   So annoying, in fact, that I searched the internet at a hotel looking for a way to disable it.   You can't.  Ugly. Mind you, the feature is useful on a two-lane country road to keep a constant distance behind another driver, but it really sucks rotten eggs on a four-lane interstate, or when it doesn't work because the sensor becomes fouled.   

One other feature that VW labels as a benefit is the integration of auto-braking with the cruise control to maintain speed and distance.  I prefer to label it unnecessary.  Rather than use the natural friction of the engine to maintain speed, the new Passat actively uses brakes during cruise situations.  When going down a mountain, the car will use brakes to maintain speed rather than downshift. I don't know what the hell the engineers were thinking when they designed this feature, but it sucks on the road.  Really.  It does.   I learned to switch off Active Cruise Control when going downhill.   I also learned to change into the passing lane well ahead of a vehicle obstacle that would cause the car to engage active braking.   I found that if I put the distance sensor to follow at the closest range, the active braking wouldn't kick in unless I couldn't pass.  I seriously wish VW would include a firmware update for the computer to allow turning off the active braking component of adaptive cruise control.  Hell, label it "traditional unassisted" cruise control and I'll use it.   Adaptive cruise control is really annoying.   Did I mention that the adaptive cruise control is annoying?   
Conclusion
The 2016 VW Passat SE TSI is not a bad car.   It gets great fuel economy.  It has low road noise and travels with a whisper.  It handles mountains, coastal roads, deserts, turning hills, and uneven roads with ease and flair.   The panels of the car are consistent, even if the materials used seem to be more affordable than durable.  The cost of the car is also affordable, with the 1.8T engine allowing regular unleaded fuel.  The car has a soft ride and is not built for high speed cornering, as the sway is rather exaggerated, but it does provide good comfort with a spacious cabin for long trips.   There is ample room for luggage, and I was able to fit a professional sized tripod used for photography in the trunk with ease.   My wife found the seats comfortable as a passenger, and she was able to sleep during long boring passages while I drove.
With all that being said, I miss my VW CC – which used the same chassis as the Passat, but with heavier materials, better fit, at the expense of lower fuel economy.   Perhaps I became comfortable in my CC.  Perhaps I feel that way because the CC reminded me of my Audi A6 Avant – which was the best and finest car I have ever driven.  *sniff sniff*  I wish I had never sold my Audi A6 Avant.  
Bottom Line
If you are going to travel long distances, or you have a long commute between work and home, the VW Passat SE TSI is a great car and a great value.    I will continue to drive the car for the next few years, and will continue to report it's durability during a few more long distance road trips – both to the west and east coasts of the United States.   If VW would modify the Adaptive Cruise Control and allow disabling of the distance sensor and auto-braking features, I would give it an unconditional recommendation for long distance traveling.  If you can live with the annoying front-assist and adaptive cruise control – it's an excellent car.   Me?  I'm calculating how much money I need to get an Audi A6 Avant.