My unintended task – which I started on a whim and doesn't exactly involve fruitcake – is to write at least 500 words a day on any subject for 32 days straight.   This is somewhat like the photographers challenge of taking a photograph every day for 365 days.   Today is Christmas and this is day 5 of my personal challenge.   I started down this road in order to get in the habit of writing every day.   After 32 days, I'll either continue writing 500 words a day, or perhaps limit myself to 4 or 5 days a week as I try to become a better artist (photography, painting, guitar, wood burning).   It's actually somewhat early in the process to claim victory – but that is my goal.  My long term goal is to write the stories that fill my head – to get in a habit of transferring those stories to words so that I can share them and inspire others with books.  The stories in my head are of redemption, sacrifice, and love – because those themes are a part of my life.
Most of my writing will be personal, but I hope that some will inspire you or help you do something, or more importantly, not to do something.   I'm going to be changing out a garbage disposal after the New Years.  That should be interesting.  *clears his throat*
Okay, forget all of that – and let loose with the meaning of Christmas.  Everybody, including myself, has written what Christmas means.    But, what, exactly, is the purpose of fruitcake? How was that for a transition into a new topic?   Regardless, is fruitcake a paperweight?   A doorstop?  Or, is the fruitcake an actual cake intended to be consumed? I contend that a fruitcake is an edible treat, as I have eaten it myself.  Every year my mother orders a 2 lb. fruitcake from Collins Street Bakery.   Of course, this year she upped her game by getting an additional fruitcake.  Have you ever had an Apricot Fruitcake?   Me neither.  To my surprise, it's actually just another fruitcake – but with apricots in it.   Different for sure, but the king of Fruitcakes is still the same old traditional fruitcake.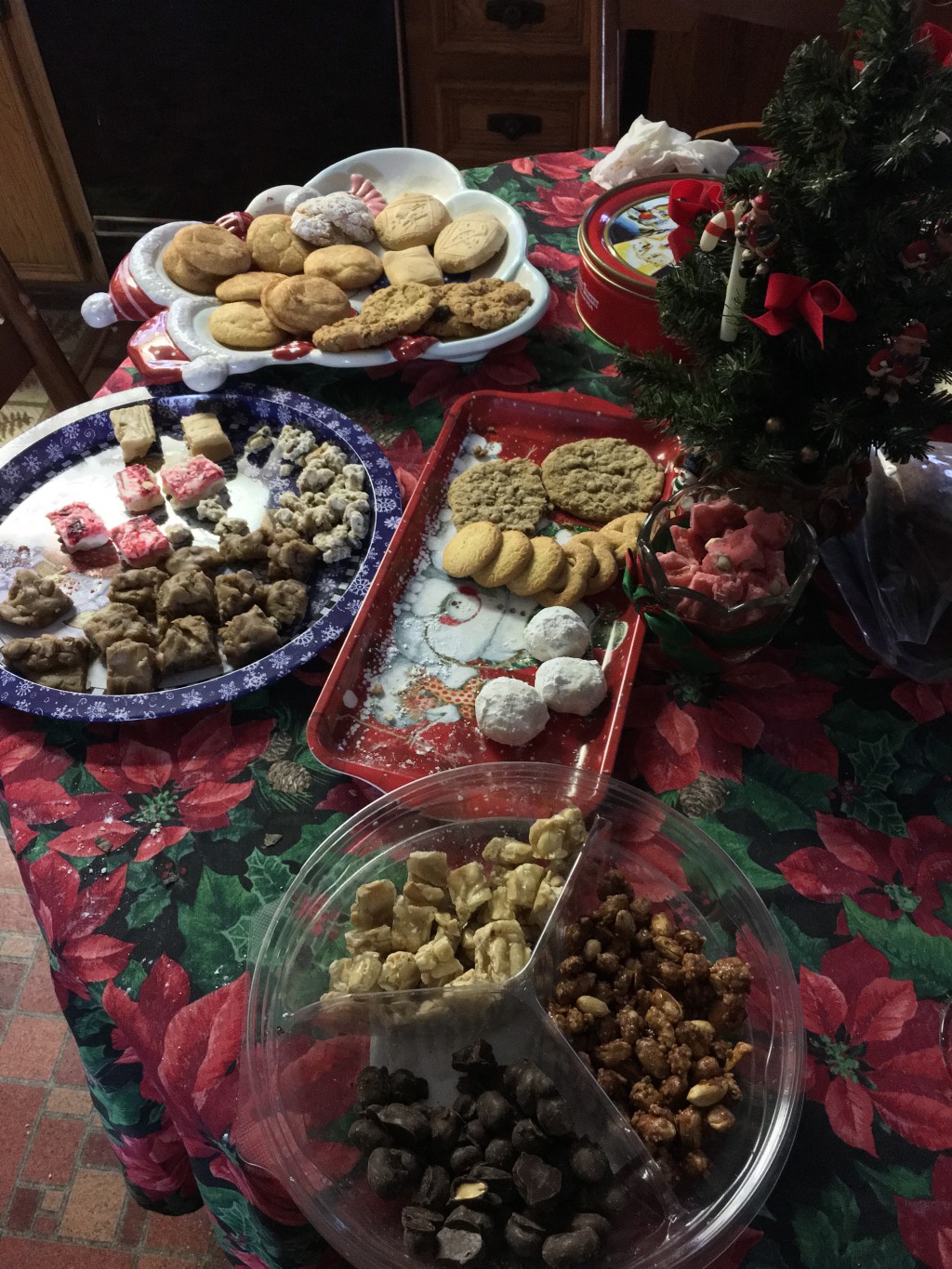 So anyhow, the fruitcake itself is a mystery to me.   I mean, other than eating it.  I really enjoy eating a good fruitcake.  Maybe it's an acquired taste.   It's one of the constants of the Christmas season that has been a part of my life since I was a young boy.  Of course, my parents also filled the family table with all sorts of treats.   Snowballs, gum drop cookies, german springerlies, snickerdoodles, fudge, peanut butter fudge, carmel popcorn, oatmeal cookies, sugar cookies, and lots of other creations.  Off to the side of the table filled with treats is a tin can with a fruitcake inside.   Every year – I'm the one who breaks the seal, cuts the cake and has a cup of coffee.
My aunt Nancy made a homemade German "Stollen" fruitcake.   It was different, but still a very rich cake.  The first known fruitcake recipe originates from Roman times with pine nuts and candied fruit.  The rich cake was created out of necessity, before modern preservatives were available.  The fruitcake spread across Europe and gained popularity.   Naturally, there are different varieties with localized ingredients, often by monks in monasteries who often engaged in milling grains and baking.   Bakeries, such as the Collins Street Bakery in Corsicana Texas, still make fruitcakes that are given and shared during Christmas.  Many people don't consider them a proper food.    Some of us, however, would consider a table of Christmas cookies and snacks incomplete without a fruitcake.
I say all of that to say this – that the common fruitcake is a symbol of the season.   It has become an accepted tradition across the world.   It is much like a decorated tree, a door wreath, or even Santa and his reindeer.  I like fruitcake.   If you think it's a door stop or a paperweight, please consider it's origin – have a coffee and a piece.   You'll find that it's a great Christmas treat.
Start: 5:50pm
End: 6:55pm
685 words