I'm currently about 80% done towards completion of my studio. Unfortunately, I've hit some snags and unexpected challenges. These are primarily related to covering the previous wall colors evenly and without splotchy effects. Perhaps I should have used a traditional primer coat. As it is, I purchased 3 gallons of Behr Premium Plus Ultra White Flat Matte interior paint at Home Depot. The product claims to be both a primer and paint in one solution. While these claims appear to be true when covering light neutral colors, it is harder to justify with darker primary colors. I had calculated 2 coats of paint per wall on my 12×16 studio. Sadly, I did not calculate for six coats of paint per wall. I will wind up using 5 gallons of paint to complete this project. I thought about switching to a new color and brand, but decided to continue with my current plan.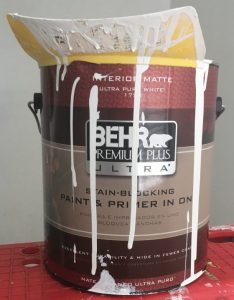 Color and Light: Ultra White
The benefits and challenges of using Ultra White in a studio are numerous. This space is going to not only be a creative space where I will learn to draw, mix and paint – but also a video studio where I will be creating future videos for my YouTube channel. Both the benefits and challenges are related to the inherent nature of white and properties of light reflection.
Reflective Space
Ultra White paint can increase the gain of light in a room by more than 20% when natural daylight is the light source. I will be using mobile 5200K LED light sources that will take advantage of this attribute to bounce light off the room surfaces. I anticipate diffusing white light in all areas of the room.
The Challenge
Light will produce glare on creative surfaces, or subjects when uncontrolled. Generally, light originating from behind the artist produces glare on the surface in front of the artist. Or, light originating parallel will reflect off the subject itself into the eye of the artist. I have seen this when viewing a painting, as well as a computer screen when editing photographs.
The Solution
I will use two methods, if necessary, to overcome the challenge of light glare. The first is also the most simple. If needed, I will eliminate the glare by using an opaque material to block the light source. Hanging a dark fabric behind me will eliminate the source of light. My studio has natural light from a ½ height southern facing window. Lucky for me, it is positioned and angled away from my workspace. So, secondly my easel will be positioned at an angle on the same wall as a southern facing window thus eliminating it as a source of glare.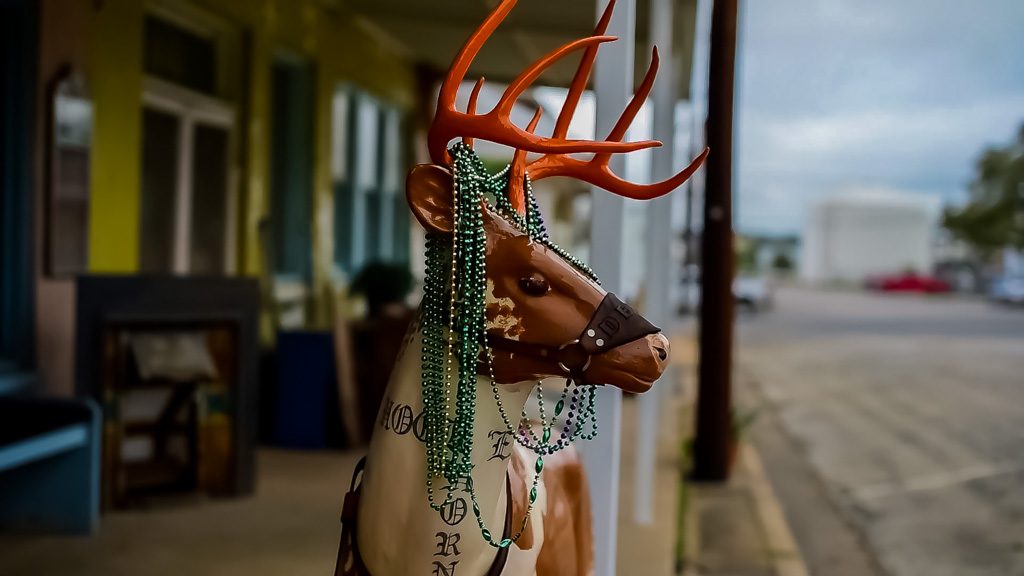 Furniture Selection
Painting my studio is only the first step in my studio's preparation. I have also considered and decided which furniture will be in my studio. Lucky for me, we have an IKEA furniture store within 10 miles of my home, and already have most af my furniture in hand in the home. I am using the IVAR system for shelving, a HEMNES dresser, HEMNES wall shelves, and an IKEA hack on my desk. After reading reviews, I've selected a Urban Artist SOHO Mahogany Easel for use as my painting station. It will stand canvas vertical and accept a large 72" canvas which were two of my primary requirements. I'm also going to use a US Art Supply table for a drawing station, and a glass table that I already have for a logistical organization desk.
What's Next in the Studio?
I'm currently editing a travel log covering Texas Wildflower season in the Texas Hill Country, and will post a blog entry for the same subject. The intro to this update video is a sneak preview, taken during an early morning location scouting trip. I wanted to check some of my favorite locations along the Llano Uplift. We found some interesting and nice places that we'll share in the new video. After this next travel log video, I hope to share a technique I used to stabilize hand-held unstable video with Adobe's Premiere Pro CC 2017 video editing software.
Practice Update
My sketchbook practice sessions are ongoing, although my subject matter is somewhat limited to basic shapes and geometric patterns. I intend to start drawing proportionally using proportion scissors, and using the grid system once I'm settled in the studio. I have yet to decide how to video these sessions, so I may wind up using time lapse as others have done.